Update on Teddy
Teddy started life very sadly and quietly in our house and did a fair amount of hiding under the bed. When he played, which wasn't often, he never uttered a sound. One day, after several months with us, he surprised us with tentative little growly sunds during a game of tug-o-war. We were delighted!
Now, Teddy has so much fun playing, that even when amusing himself with a stick in the yard, he runs and prances while making making his adorable, happy growly sounds.
It warms my heart to watch him having so much fun, enjoying himself with head and tail held high, especially when I remember how he was at first. Teddy is a joy, and his joy of life can't help but enhance ours. We are so happy this boy found his way to our home as a foster to forever.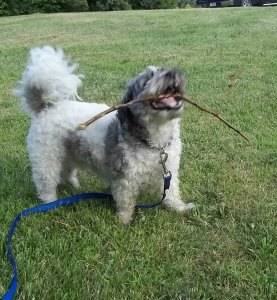 Read Teddy's story - "From Foster to Forever" - in Rescue Me.
Do you have a happy ending story about your rescue dog? We'd love to hear it. Please share in the comments below. If you have a blog, feel free to join our blog hop.